Heating & Air Conditioning for Dayton, Ohio
For over 30 years, McAfee Heating and Air Conditioning has been delivering dependable, quality service and comfort to the Dayton area. Our expert Customer Service, Repair Technician, Indoor Air Quality, and Comfort Advisor Teams work together to bring you the very best in HVAC services for your home.
Repair Services are offered with our 8 to 8 Same Great Rate promise, along with timely and reasonable Service on Demand. Our Comfort Family Members enjoy additional savings and peace of mind. Indoor air quality and comfort is our priority for your home…and we have the energy efficient equipment and service teams to provide it!
Our Latest News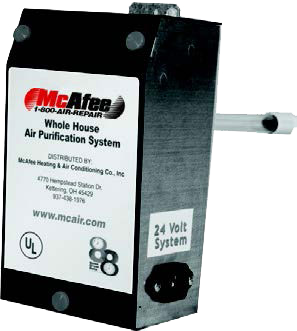 Whole House Air Purification Systems
Sick of being sick, spreading sick, or worrying yourself sick over possibly getting sick? Consider adding an ultraviolet germicidal light air purifier to your home. It cleans the air of contaminants such as bacteria, viruses, mold and germs. It also removes harmful particulates and neutralizes unpleasant odors in a home.
Contact Us

Never a charge for maintenance or filters. Never a charge for repairs and no longer an overtime rate. When the day comes your system needs to be replaced, you're covered. Enrollment in our McAfee Omega Plan guarantees you will never have to purchase a new system ever again.
Learn More
Through the years, BBB's torch has been the symbol of guidance and enlightenment as consumers and businesses strive to interact in a trustworthy and ethical marketplace. The local Torch Award is dedicated to the legacy of great Miami Valley business pioneers, such as John Patterson, Wilbur and Orville Wright, Charles Kettering, Colonel Edward Deeds and most recently, Clay Mathile. It was through their ingenuity, leadership, generosity and mentorship to others the Miami Valley has stood the test of time and recreated itself again and again.