Helping Families Treat Childhood Respiratory Illnesses
The McAfee Foundation for Children & Youth (501c(3) non-profit organization) was founded in 2006. In partnership with The Salvation Army Kroc Center Dayton, our purpose is to provide assistance in the Dayton area through feeding children and families, summer camps, and sponsoring sporting events. The Foundation also assists with other costs related to pediatric respiratory treatment.
The McAfee Foundation provides for our youth through a wide variety of services. These include, but are not limited to, the improvement of home air quality, food relief programs, guidance and support on resume writing and interviewing skills, educational scholarships, as well as opportunities related to achieving educational and vocational training goals.
The McAfee Foundation receives donations provided by 100% of its employees as well as generous donations from McAfee Heating and Air and the community. Your donation will be used to take care of children in our community who truly need your support. Your kindness is greatly appreciated by families around the Miami Valley.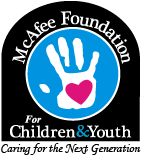 Who We Are
The McAfee Foundation is dedicated to helping families bridge the gap while they seek permanent solutions for providing their children with medication.
Parents are relieved to hear that their child's illness can be treated with medications. Many families in our community lack the resources to be able to pay for treatment.
Make a Difference
Proper medications are critical for children with respiratory illnesses. However, obtaining medications can be very costly for some families.
One goal of the McAfee Foundation is to make sure that no child goes without medicine for respiratory illnesses. The McAfee Foundation receives generous donations by McAfee Heating & Air Conditioning and its employees. Additional donations are welcomed and greatly encouraged as there are many children in need of help. Your kindness is greatly appreciated by families around the Miami Valley.
How You Can Donate
Mail
Please make checks payable to:
McAfee Foundation for Children and Youth
Send to:
4750 Hempstead Station Drive
Kettering, OH 45429
Financial Assistance
If your child has been diagnosed with a respiratory illness, and you are in need of financial assistance with medication expenses or supplies, The McAfee Foundation may be able to help.
To request financial assistance from the McAfee Foundation, please complete and submit the McAfee Foundation Grant Application Form.